Reading time: 8 minutes.
You're now in the business and ready to take the world by storm with your products and services. All is set—except for your business brand.
A lot of businesses often don't give importance to branding a business for several reasons: Limitations of ideas, lack of budget, absence of resources, and more. The thing is, branding a business is essential. Serving as an online front porch, branding speaks of your company's distinction and identity.
Whether you're a one-person team who owns a small business or a start-up company that's still on the edge of branding your business, we've listed a couple of tips on how to strengthen your business brand and later on, generate sales.
If you're on the hunt for ways to build a strong brand for your business, keep reading.
Read more: Guide To Online Selling (Everything You Need To Know About Online Business)
Why do you need branding for your business?
Unique products or services aren't enough—you need solid branding to entice your market. Below are the reasons why you should take your branding seriously asap:
It gives you a solid distinction.
"I know that brand!"
You're only seconds away from differentiating your brand from other businesses—make it count with effective branding. Since the business industry is a crowded place, your branding should be able to speak out for you. With a consistent and powerful brand, your customers can easily pick you out from the rest—and think of you the moment they're making purchase decisions. Take Apple and Starbucks as examples—their logos speak of evergreen familiarity to the audience.
It reflects your business intent.
"This brand is passionate about something."
Building a brand for your business serves as an extension to your audience—it's a bold proclamation of your company's "why." Branding a business will allow you to leave your audience something more than the usual product or service—instead, it will give them an impact that they can never forget.
It builds customer trust.
"I trust this brand more than any business out there!"
The art of well-developed business branding is its ability to put people at ease during purchase journeys. What's the first brand that crosses your mind whenever you want to buy a coffee? Donuts? You probably already had a logo in mind—but it doesn't stop there. You'll still think of this logo today and tomorrow when you need to drink another coffee, or the day after when you're craving donuts. A powerful business branding helps your customers remember and trust the quality of your products and services, delighting them until their next purchase.
It serves as your "storyteller."
"This brand exists to say something."
The truth is that most people won't spend time reading your lengthy "About our company" page to know your business branding. With a distinct business branding, you're letting it answer the most common questions of your customers on your behalf.
It ticks emotions.
"I feel connected to this brand."
As humans, we're naturally built and connected to ideas and stories—that's why brands that can tick those boxes are one of the best ways to promote brand loyalty. One of the best examples of this is TOMS shoes—whereas the company gives a new pair of shoes to a child in need for every purchase. Since its founding in 2006, TOMS has been known for this business branding until today—not existing to just sell products, but to bridge an emotional connection to its every customer.
By now, hopefully, the why in "Why developing a brand is more important than ever"_ should be clear as water—the only question left is: How?
Pro tip: You can strengthen your business branding through every marketing collateral you send to your customers—including online forms. Whether you're getting customer information or obtaining orders from your users, you need efficient online PDF forms that can highlight your business. PlatoForms allows you to make online fillable PDFs and white label them for that professional look. Learn more here.
How do you build a brand for your business?
Establish your brand identity.
Ask yourself. What's your business? What values and beliefs do you want to establish for your brand? What do you want to be known for? Creating a mission and vision for your company sets a clear understanding of what your brand can look like to your customers and your brand image as a whole.
State your strengths and weaknesses.
Every business has its strengths–and setting a clear differentiation between these and your limitations can allow you to establish what sets you apart. As you list them down, think of the distinctions of why your customers should choose you over your competitor—or what services are your edge in the market.
Know your audience.
Now that you're on your way to establishing your business branding, it's time to get to know your customers. Who do you want to reach with your services or products? How are you going to reach them? Where do they live—what language do they speak? What are the problems that you would solve with your products or services? To do this, you have to create your buyer persona.
By knowing your audience, you won't have to speak to thin air. This way, you can build a brand that speaks to the right people, with the right strategy.
Craft your business branding story.
Every business has its own story. Stories are compelling because people are always passionate to know your "Why." Let's get things straight; people don't like hard selling; they want to see what you can do to solve their problems. To craft your business branding story, ask yourself these questions:
What do you do, and why do you want to do it?
How will you send this message to your audience through your products to provide solutions?
Marketing to people isn't all about cold calling and email advertising; you also have to empathize with your audience and build connections. This way, generating income just comes smoothly without you even trying.
Establish your business branding voice.
Now that you've created your business story, it's time to set your business tone. Do you want to sound formal, a little informal, or more friendly? Do you want to be an informative brand to establish credibility or a more engaging one? Your business branding voice will set the tone of your business—and will encourage consistency.
Create a remarkable design.
Do first impressions last?
In business, yes, it is.
Make your business branding memorable by creating robust designs. From logo to website, your design should speak of your business' intent. Proper design will make your brand more recognizable—allowing people to trust your business. Make sure to take your time in making a concept on how you want your brand to look and practice consistency by creating standard colors.
Engrave your brand to your marketing collateral.
Whether you're sending out order forms or freebies, engrave all your business stuff with your brand. Doing so will encourage consistency throughout your channels, both online and in your products or services.
For example, if you create online PDF forms for your restaurant reservation purposes, you don't want to be content with the generic Google forms, don't you? Of course, you'd like to customize your forms—and label them with your custom domain. PlatoForms allows your branding to be recognizable through your online PDF forms—you can easily make online fillable PDFs, white-label them, and share them online seamlessly.
Pro tip: Do you want your forms to include your company name or domain to achieve that branding look? You can simply use your custom domain for a formal touch as you make PDF fillable forms online. Make online PDF fillable forms and personalize them with your branding here.
The advantages of building a solid brand for your business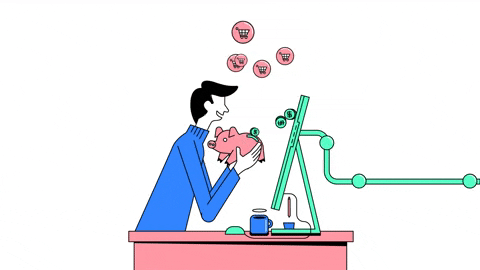 There are infinite advantages to having a powerful and recognizable brand. Some of them are, but are not limited to:
Strengthens brand recognition.
"I know that product!"
A strong brand means strong recognition, too. To be recognized is such a powerful trait for your business—that even if people don't use your products, they know you.
Not everyone uses an iPhone, but everyone sure does know the logo of Apple. Unlike other brands, it's hard to mistake an iPhone with another brand—as its design and aesthetic is distinct compared to other mobile devices.
It builds loyalty.
"I use all of their products because it's amazing."
Did you know that more than 57% of customers spend more money on brands they are loyal to? Which explains the hype of all Apple products, for example, no matter how pricey it is. Once established with strong credibility and powerful impact, your brand's ROI will surely come into the picture.
Your business branding will speak for you.
"You gotta try this–-it's an amazing product!"
Ever had someone recommend a product to you just because it's incredible? Your business story won't end from here; your customers would want to tell it to their family, friends, relatives, and the list goes on.
Additionally, word of mouth sometimes just does the work after all. Data from Sprout Social says that word of mouth marketing can do so much for your business, including increasing your marketing campaign.
Pro tip: Build brand loyalty in your online PDF forms with PlatoForms. Aside from allowing you to make online fillable PDFs, you can also white-label your brand on your forms for that business look. Sign up and make fillable PDFs online today!
It overweights the product cost.
"I need to buy this—no matter how expensive it is!"
Sometimes, your brand is enough for people to get it; no matter how high the price, this is called price sensitivity. Because your brand says it all, you don't have to compromise your product or service's cost.
Your employees are proud of your brand.
"Working at this brand is amazing!"
Attracting people to work for you won't be a chore—your brand will create credibility for you. At the same time, They will be proud to tell which brand they're working for.
Conclusion
Building your business branding won't happen in a snap–it will take time, effort, and money. Though complex, creating a strong brand will let your business be heard amid the noisy market and allow you to stand out among the rest. Several steps should be taken–including defining your tone, creating the design, and more.
Build your business branding with PlatoForms
PlatoForms isn't all about letting you make online fillable PDFs—you can also white-label them with your custom domain for an impactful brand. You can convert online PDF forms and share them with your users in minutes–with your brand in them. Sign up here today and build business-friendly online PDF forms!