Reading time: 4 minutes.
Managing an online business is tough–every aspect of the business must be managed digitally, including payments. Since online business continues to boom, online payment software also rises to ease the lives of e-commerce companies in accepting payments. Stripe, an online payment platform founded in 2009, aims to provide convenience in managing and accepting payments online. Aside from making payments easier than before, Stripe is also focused on preventing fraud in payment transactions. We took the time to go through the software to provide a detailed stripe payments review that could help you to get started, so keep reading!
Stripe Pros:
Numerous integrations
Stripe provides hundreds of third-party integrations, including CRMs and accounting apps. Businesses can easily integrate their stripe account to the most common online tools such as Slack, Salesforce, Shopify, and more.
Detailed reports overview
Stripe offers a detailed and complete overview of reports–making it easy for you to check your payment activities. You can even compare your report from a certain period and monitor it if there are any changes. Stripe's interface includes reports of the number of your new customers, volume from sales, and successful payments. For security, businesses can also set up and customize their fraud protection by setting risk scores and personalizing rules.
Easy online payment transactions
You can now send invoices to your customers seamlessly with Stripe. The software includes an invoice and shares payment link features for you to get started.
Free API
The good thing about Stripe is its ability to provide API for developers. With its free API for developers and businesses, companies can customize their e-commerce service by building a web or mobile integration to accept payments online. This way, developers can monitor and protect the money that's being accepted in Stripe. Additionally, the software offers financial services, too—including the issuance of physical and virtual cards. Through Stripe's API, your company can create and distribute payment cards for a seamless transaction.
Read more: API Integration for Online PDFs, How Does It Help?
Can be integrated with other e-commerce platforms
With Stripe's API, you can connect your Stripe account to your e-commerce business for a more secured online transaction.
Stripe Payment Forms Can be integrated with PlatoForms
Whether you're a charity that needs to send a donation form or a business start-up that needs to collect online payments, you need an online PDF software that can collect payments. With our Stripe integration, your online PDF stripe payment forms with PlatoForms can now accept payments anywhere, anytime.
Stripe Cons:
Stripe cannot accept Paypal payments
Unfortunately, Stripe can't accept PayPal payments. Although most people prefer to pay with credit cards when shopping, 12% of people would still use PayPal than credit and debit cards. However, Stripe provides a reasonable price for handling online credit card payments. The icing on the cake–Stripe also gives discounts to companies that have higher sales each month (With over 80,000 USD). Whether your clients are using Visa, Mastercard, Discover, or American Express-Stripe can accept it and process payments easily.
Not so user-friendly interface
My experience with Stripe has been a bit complicated–since I'm still new and not familiar with the technicalities. The interface provides too much data to look at, and setting up integrations can take a while for a newbie like me to do. It's also unavailable for most countries and only available in the US and the surrounding countries.
PlatoForms + Stripe Payment Forms
It has become tough for small businesses and start-ups to collect credit card payments on the internet—since the process is quite lengthy. For them to start collecting online payments, several factors should be considered; such as making sure servers are PCI-compliant, applying for a merchant account, and implementation of credit card checks. Thankfully, Stripe now solves this problem—making the collection payment a piece of cake. Another awesome thing? Aside from letting you convert PDFs to online forms, our forms here at PlatoForms can now be integrated with Stripe, allowing you to conveniently collect payments from your PDF online forms. Now, businesses can do more than just turn PDFs into fillable forms with PlatoForms—make stripe payment form templates and collect a payment within minutes.
Read more: Announcing Stripe Integration: Accept Payment via Stripe with PlatoForms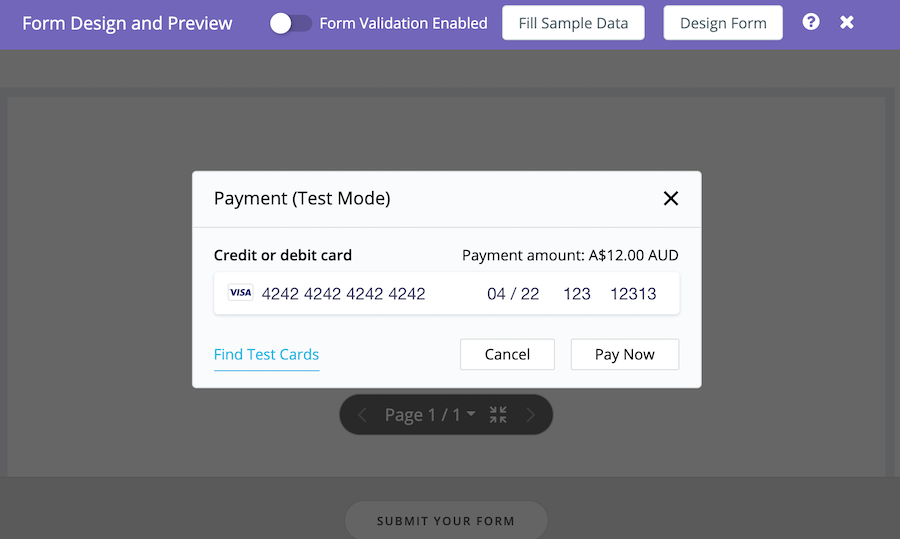 We provided detailed instructions on how you can integrate your forms on Stripe to accept payments easily. With our Test Mode and Live Mode options upon connecting, you can recheck whether the payment function is working properly or not. This all comes for free—PlatoForms won't charge any fee for any of these transactions!
Whether you're a small business or a massive company that's looking for online payment software and APIs to accept payments from your forms, you can integrate your online forms with Stripe. Take a minute to read our documentation page to learn more.